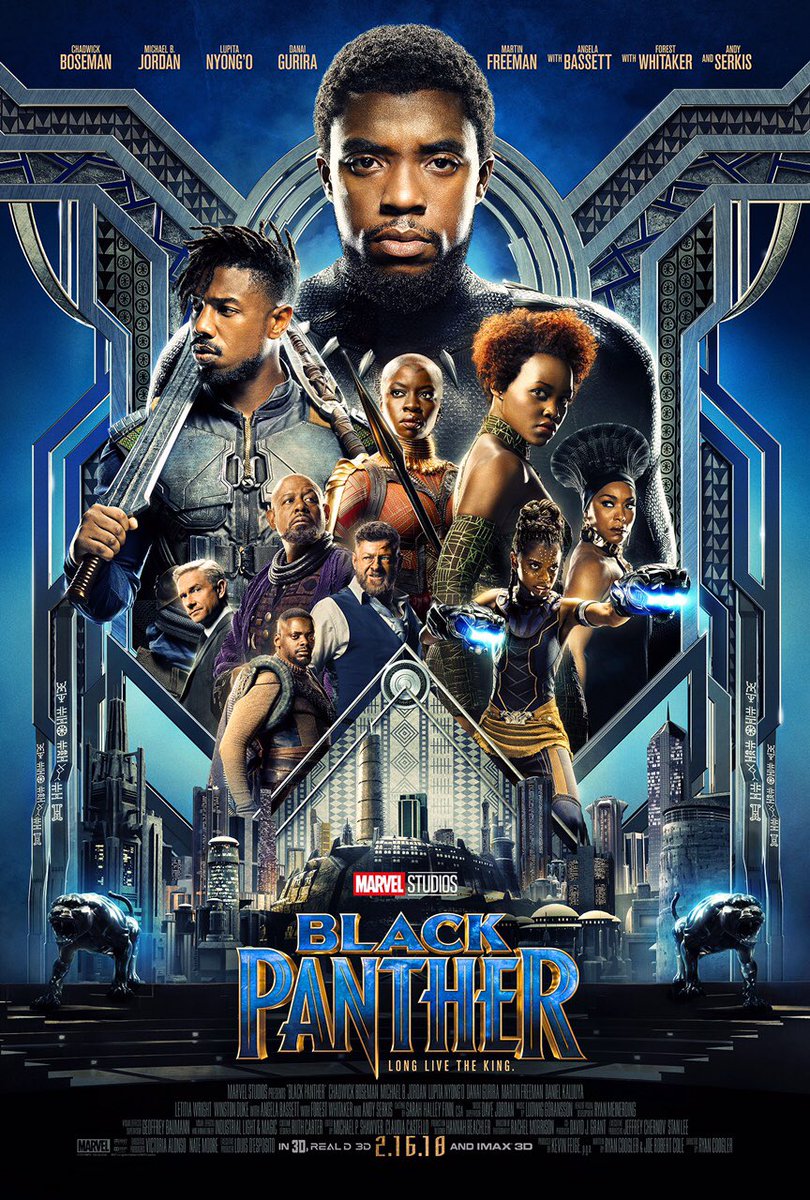 Warning: Spoilers Below
It's incredible to think the Marvel Cinematic Universe began ten years ago with 2008's Iron Man, modest beginning for the largest franchise on the planet. At one point, putting a interconnected comic book universe on screen would have appeared too difficult an endeavour. Now we've become so used to this intricacy, it's hard to imagine when superheroes were isolated on screen. A large part of the the Marvel Studios' films is the continuity and while it's still inherent to their latest film, Black Panther, the film would still feel epic and expansive even if it wasn't in the MCU. This is due to the film's setting, Wakanda, a technologically advanced African country. Wakanda feels so rich with history and mythology. Wakanda presents itself as a third world country to the rest of the world, essentially isolationist, not providing aid or weapons to the rest of the world.
Despite the film's focus on Wakanda, this is also a globe-trotting film. We go from a casino in South Korea- right out of a James Bond movie and one of the best sustained action scenes in the Marvel films thus far- to Colorado and London. All this widens the epic scope of the film. Cinematographer Rachel Morrison (who became the first woman to be nominated for Best Cinematography at the Oscars- for her work on Mudbound) provides a distinct look for these locations without feeling like we're constantly in a completely different film. This is also attributable to a consistent tone, which doesn't undermine itself with too much jokiness. It's serious while having a healthy amount of humour.
Black Panther isn't the first black superhero film or the first black-led MCU property (Luke Cage), the significance of a blockbuster having a prominently black cast, a black director and being set in an African country (howbeit fictional) can't be understated. And it really feels like director Ryan Coogler (whose previous two films are Creed and Fruitvale Station) was able to make the film without watering down the deep African spirituality that pervades much of the film. There are scenes and moments in this film that are unlike any I've seen in a superhero film- including the primal combat that decides who will rule, and T'Challa seeing his father in a spirit world- a scene which invokes The Lion King.
The film takes place shortly after Captain America: Civil War, in which the King of Wakanda, T'Chaka (John Kani) was killed by a terrorist attack. His son T'Challa (Chadwick Boseman) is to become the new king. Soon after his coronation, T'Challa is alerted to the re-emergence of arms-dealer Ulysses Klaue (Andy Serkis), who in the past stole Wakanda's precious resource vibranium (from which Captain America's shield is made). He has stolen a Wakandan artifact from a British museum.
What T'Challa doesn't know is the theft is part of a larger plan concocted by Erik Killmonger (formerly Stevens), who's T'Challa's cousin. T'Chaka had sent his brother N'Jobu (Sterling K. Brown) undercover to America many years ago. He fell in love with an American woman and had a son- Erik. In 1992 T'Chaka (Atandwa Kani) comes to N'Jobu, accusing him of helping Klaue steal vibranium. N'Jobu's partner James is actually another Wakandan spy, Zuri (Denzel Whitaker, later Forest Whitaker), who confirms T'Chaka's suspicions. When N'Jobu attempts to kill Zuri, T'Chaka kills N'Jobu, leaving Erik behind, who eventually became a black ops soldier. N'Jobu was stealing vibranium so he could provide weapons to oppressed people across the world. Now Erik is continuing on his father's plan, part of which is claiming his birthright as King.
Erik is one of the strongest villains we've had in a Marvel film to date, because we can truly sympathise with him. He lost his father and was abandoned due to Wakanda's rejection of outsiders. I think T'Chala can see himself in Erik, the anger at the death of a father and the need for revenge. T'Challa even somewhat agrees with Erik. T'Challa blames Wakanda's isolationism for creating the monster Erik has become in the first place. There is validity in believing Wakanda should provide help to the oppressed but Erik's way is too extreme. I would argue that it's Erik's actions that help T'Challa realize that things have to change, that Wakanda should attempt to reach out and help others.
I like that Erik feels like a real guy who just happens have a connection to a fantastical world. His American accent and use of slang is juxtaposed with the Wakandan accents, highlighting his different upbringing and lack of pretence to fit in. Erik is way past attempting to assimilate in to Wakandan society. He wants to remodel Wakandan to fit him and his philosophy. The final scene between him and T'Challa, where Erik removes T'Challa's knife from his chest, allowing himself to die, is one of the most emotionally impactful villain deaths in quite some time. It has a Shakespearean quality to it. Erik's death is a tragedy because he could have done great things if events had happened differently. Moreover, what he says about his ancestors knowing it was better to die than live in bondage, is something more painfully truth than we're used to in superhero movies.
I've talked so much about the men of Black Panther but it's important highlight the women as well. I love Letitia Wright as T'Challa's younger sister Shuri. Continuing the James Bond analogy she acts as his Q, creating his gadgets and upgrading his suit. Their big brother-little sister relationship humanizes T'Challa and makes him relatable.
General Okoye (Danai Gurira) is loyal to the throne of Wakanda regardless of who's on it but eventually can't abide Erik's plan. Gurira is absolutely convincing as an austere warrior who feels deeply but is adept at hiding those feelings. She finds herself in conflict with her lover W'Kabi (Get Out's Daniel Kaluuya), who sides with Erik. She tells him that for Wakanda, she would kill him- and you believe her.
Wakandan spy Nakia (Lupita Nyong'o) is T'Challa's ex but she's never merely a love interest, but someone with her own point of view on Wakanda's isolationism. If Wakanda won't help others, Nakia will do whatever she can to aid the oppressed.
There are some issues I have with the film. The sub-plot with C.I.A agent Everett Ross (Martin Freeman), particularly him helping save the day, feels like the only plot thread in the film which was studio-mandated (i.e. have at least one white character do something heroic). Freeman is such a likable actor that it doesn't sink the film but it feels like the most Marvel thing in the film.
Structurally, I find it odd that Erik is introduced fairly early in the film but disappears for a significant period. I also wanted more development of W'Kabi to better understand why he sides with Erik despite being friends with T'Challa and Erik apparently killing T'Challa.
Overall I'm excited to see what happens now that Wakanda has revealed itself to the world. What are the positives and what are the negatives. I sense this will be the line of films leading the way for Marvel in the coming years. While I don't know if Black Panther is my favourite Marvel film, it's definitely in the top tier of their output. And it's a sure sign there's still life in the superhero sub-genre.